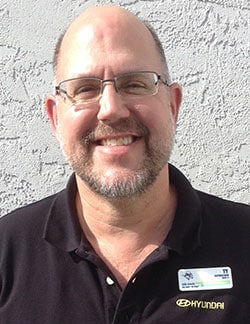 Ty Ostreicher, who has spent most of his career in the automotive industry, still reads the newspaper every morning when he wakes up.
"Some people have coffee," Ty said. "I read the newspaper to wake up."
Ty has been working in automotive since 1993, 17 years of which he worked for Saturn. Before that, he worked in dropout prevention at a high school. Helping people has always been a focus in his life, and he brings that with him into his career. He joined the team at Holler Hyundai almost 4 years ago as a service advisor.
When asked about his hobbies, Ty said that he likes to eat, sleep, and work. When he does have time, he likes going to water parks, especially the lazy river. He considers this to be the ultimate relaxation.
Ty's proudest accomplishment is being successful personally and professionally. He has been in a relationship for 19 years and married for 4 of them. He also had a Siberian husky who is now "an angel in heaven" and a spiritual guide for his family. He still says goodnight to the husky every night.
For anyone looking to start an automotive career, Ty's advice would be to prepare for the time investment. While the job takes up a lot of time, Ty enjoys helping people and meeting friendly people at the dealership. He makes an effort to always make a friend first and service cars second.
"Let your clients become your friends, and let your friends become your clients," Ty said.