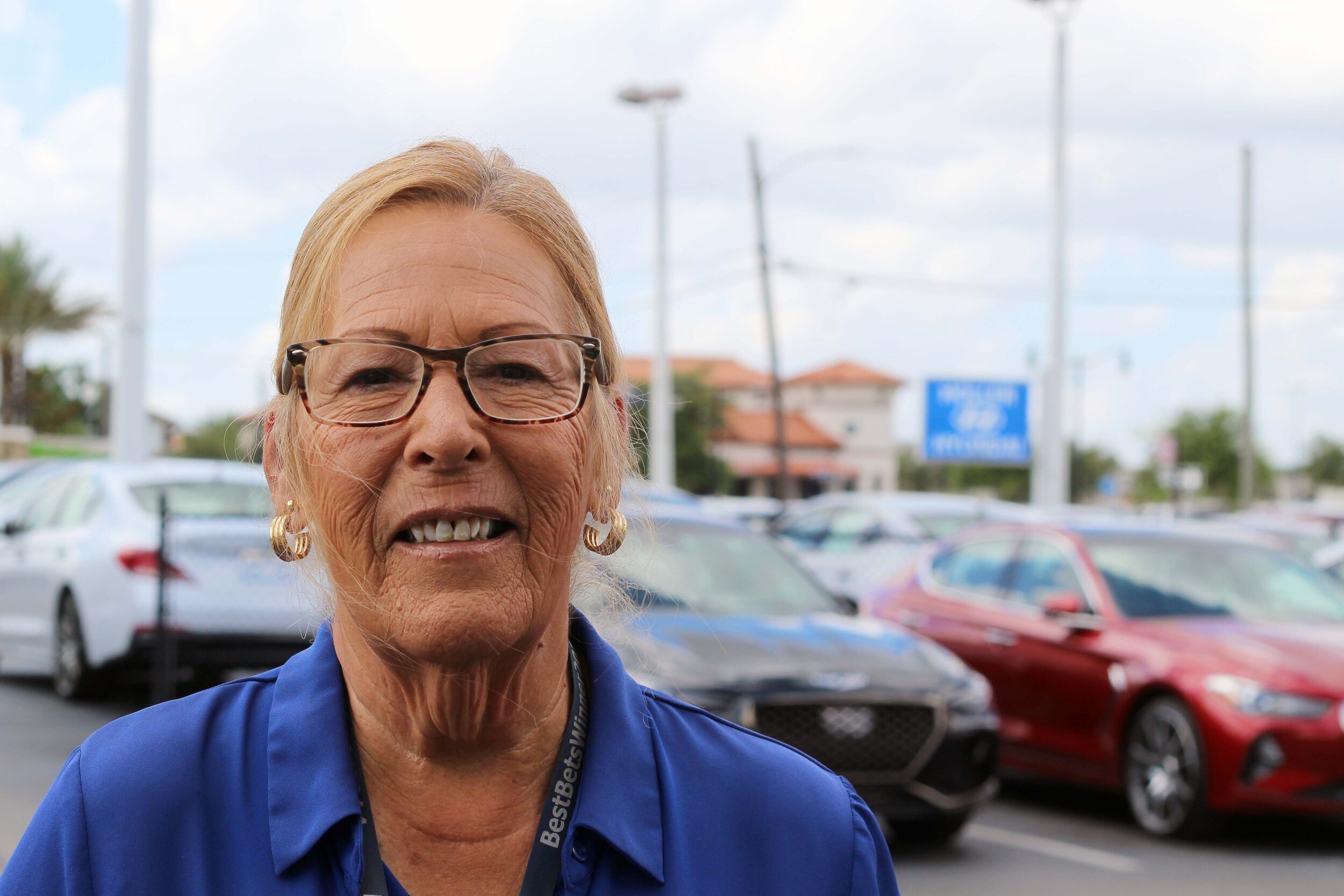 Ronnie Herman, who just celebrated 10 years at Holler Hyundai as a sales representative, comes from Brooklyn, New York and feels at home in Florida.
Before joining the automotive world, Ronnie earned a bachelor's degree in journalism from New York University and an AA in textiles from a fashion institute. She met her first husband there and had 2 children with him, divorced him, then met her second husband who owned three car dealerships. Her start in automotive was selling fleet vehicles for his dealerships, which she did for 5 years.
For 20 years, Ronnie practiced commercial real estate in south and central Florida. Starting out as a receptionist, she got her real estate license and became a director for a shopping center developer. In 2004, Ronnie saw an ad for Holler in the newspaper. She went to the corporate office to apply for the job, and she aced the initial interview. Chad Rogers, who is currently the general manager of Classic Mazda, hired her on the spot to work for the Hollers' Kia dealership. She has worked for Holler-Classic ever since.
"As they say, the rest is history," Ronnie said.
What motivates Ronnie at work is seeing people in need and helping them out. When someone really needs her help, that makes her work even harder. Her grandchildren also inspire her to work hard. Meeting people is what Ronnie enjoys most about working in sales. She has met really good friends who started out as customers.
"That's why I can't retire yet," Ronnie said. "They always ask, 'What will we do when you leave?'"
To anyone looking to start in the automotive business, Ronnie's advice is to know your product, follow the process, and take days off to prevent burnout. Sometimes, she still struggles with the last part.
Along with her human grandchildren, Ronnie has a part sheltie, part Australian Shepherd dog named Snickers who she considers her furry granddaughter. Affectionately called Princess, Snickers is always the first one at the door when Ronnie comes home at night.